Sponsor a Kiddush
We all have special dates on our calendars, but sometimes we're not quite sure what to do about them, so...
What better way to mark that special date, than by sponsoring a Kiddush at Chabad and celebrating with family and friends?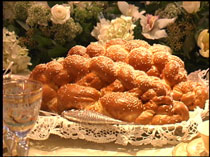 How?
Tell us when. Tell us who. Tell us why.
We'll take it from there.
Enjoy a delicious meal at Chabad complete with kosher wine, delicious, homebaked Challah, hot cholent, and more.
Call 775-825-8928
or send us an e-mail: [email protected]